MAHASHIVRATRI WISHES MARATHI
Hindu Festival Mahashivratri Wishes SMS (महाशिवरात्री शुभेच्छा) in Marathi Language only on Hindimarathisms. We always update Marathi Mahashivratri Messages in this category so you will get Latest & New Mahashivratri SMS in Marathi. Send Mahashivratri texts or picture SMS in Marathi to your friends & Wish them. Enjoy our Best Mahashivratri SMS Collection in Marathi & Share Mahashivratri Wishes Images in Marathi Font with your Facebook & Whatsapp Friends. Say Happy Mahashivratri to your dear one. Mahashivratri SMS also known as Maha Shivratri Quotes or Shivratri Status in Marathi.
तुम्ही जर महाशिवरात्री SMS च्या शोधात असाल तर तुम्हाला या Website वर बरेच महाशिवरात्री संदेश वाचायला, Share करायला आणि डाउनलोड करायला मिळतील. २०११ सालापासून Hindimarathisms.com या वेबसाईट वर आम्ही दररोज नवीन मराठी महाशिवरात्री शुभेच्छा, महाशिवरात्री Wishes चा संग्रह वाढवत आहोत, आम्हाला खात्री आहे की तुम्ही आमच्या संकेतस्थळाला पुन्हा पुन्हा भेट द्याल.
ॐ नमः शिवाय…
महाशिवरात्रीच्या हार्दिक शुभेच्छा…
हर हर महादेव !
Om Namah Shivay…
Mahashivratrichya Hardik Shubhechha…
Har Har Mahdev !
दुःख दारिद्र्य नष्ट होवो
सुख समृद्धी दारी येवो
या महाशिवरात्रीच्या शुभ दिवशी
तुमच्या सर्व मनोकामना पूर्ण होवो…
Happy Mahashivratri !
Dukh Daridrya Nasht Hovo,
Sukh Samrudhi Dari Yevo,
Yaa Mahashivratrichya Shubh Divashi
Tumchya Sarva Manokamana Purna Hovo…
Happy Mahashivratri !
Happy Mahashivratri Quotes Marathi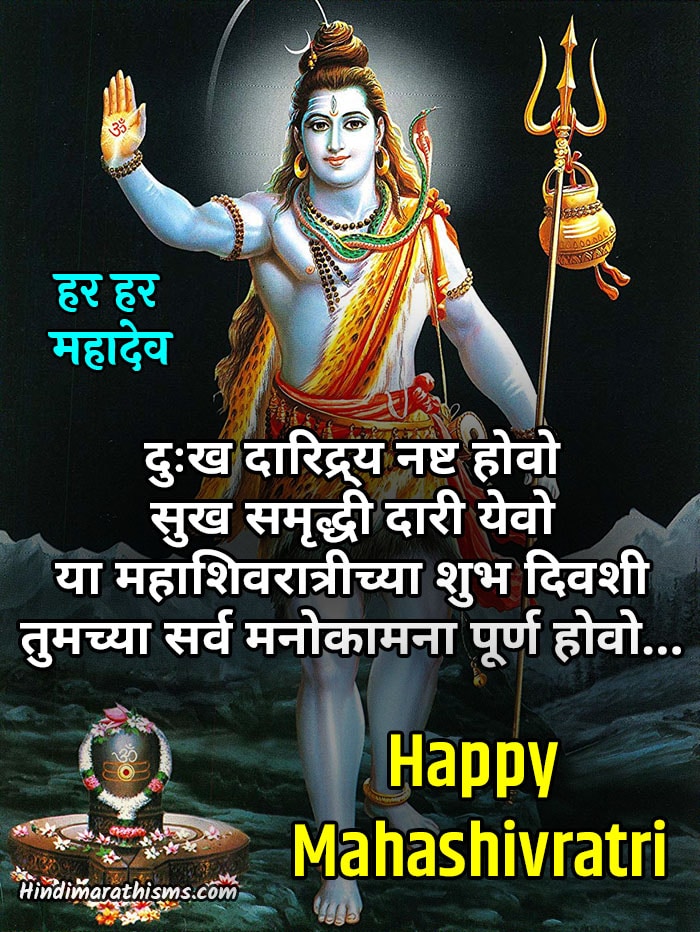 कारुण्य सिंधु भव दु:ख हारी..
तुज विण शंभु मज कोण तारी…
हर हर महादेव
महाशिवरात्रीच्या हार्दिक शुभेच्छा !
Karunya Sindhu Bhav Dukh Hari..
Tujha Vin Shambho Majh Kon Tari…
Har Har Mahadev
Mahashivratrichya Hardik Shubhechha !
Status For Mahashivratri in Marathi