Kiss Day Quotes Hindi
Kiss Day Quotes in Hindi. We always update Hindi Kiss Day Wishes in this category so you will get the Latest & New Kiss Day SMS in Hindi. Send Kiss Day texts or picture SMS in Hindi to your friends & Wish them. Enjoy our Best Kiss Day SMS Collection in Hindi & Share Kiss Day Wishes Images in Hindi with your Facebook & Whatsapp Friends. Say Happy Kiss Day to your dear one. Kiss Day SMS also is known as Kiss Day Shayari in Hindi, Kiss Day Quotes, or Kiss Day Status in Hindi.
अगर आप हिंदी किस डे SMS ढूंढ रहे हो तो आपको इस Website पर ढेर सारे किस डे स्टेटस पढ़ने, Share करने और डाउनलोड करने के लिए मिलेंगे। २०११ साल से हम आपके लिए Hindimarathisms.com इस वेबसाइट पर हर रोज नए हिंदी किस डे सन्देश, किस डे शायरी एकट्ठा कर रहे है, हमें आशा है की आप हमारी Website को बार बार भेंट देंगे।
चुम्मा चाटी दिवस की
हार्दिक शुभकामनाएं…
Happy Kiss Day!!
बाहों में भरकर पूछा था उन्होंने की,
कौन सा रंग लगाऊ तुम्हे,
मैंने भी कह दिया की,
मुझे सिर्फ तुम्हारे होठों का रंग पसंद है…!
Baho Me Bharkar Pucha Tha Unhone Ki,
Kon sa Rang Lagau Tumhe, Maine Bhi
Keh Diya Ki, Mujhe Sirf Tumhare Hoto
Ka Rang Pasand Hai…!
Kiss Day Hindi SMS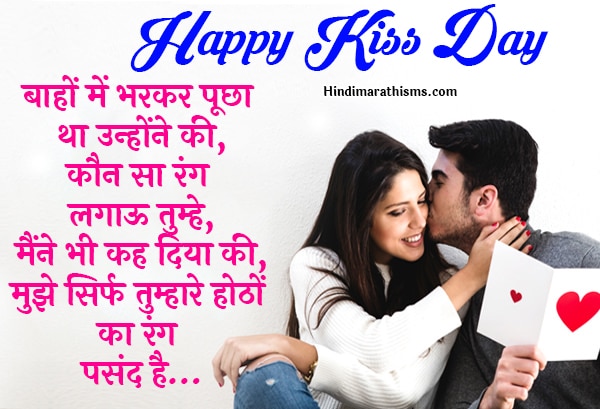 Kiss Day Message in Hindi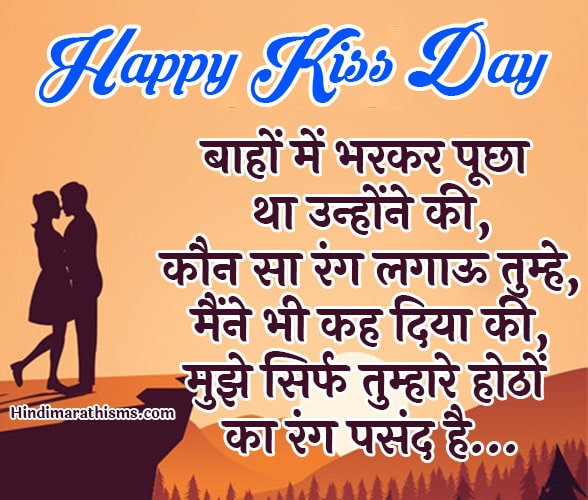 वो भी क्या दिन थे जब लोग हमें,
दीवानों की तरह KISS किया करते थे,
मगर अपनी किस्मत ही बुरी थी,
जब उन दिनों हम २ साल के हुवा करते थे…
HAPPY KISS DAY!!
Vo Bhi Kya Din The Jab Log Hame,
Deewano Ki Tarah Kiss Kiya Karte The,
Magar Apni Kismat Hi Buri Thi,
Jab Un Dino Hum 2 Saal Ke Huwa Karte The…
Happy Kiss Day!!
Kiss Day Funny Shayari Hindi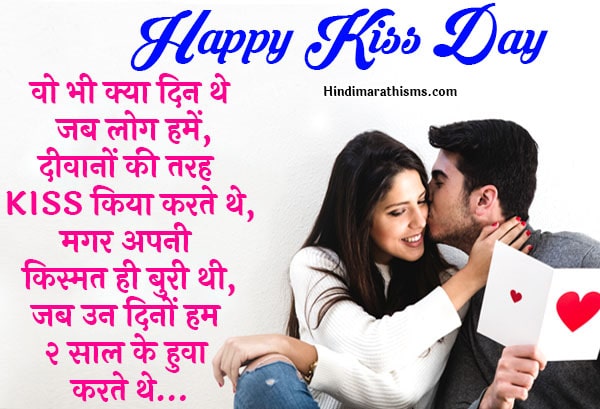 Kiss Day Funny Quotes in Hindi