Category:
ANNIVERSARY WISHES HINDI
Latest Anniversary SMS in Hindi Language. We always update Hindi Anniversary Wishes (शादी के सालगिरह की शुभकामनाएं) in this category so you will get Latest & New Anniversary SMS in Hindi. Send Anniversary texts or picture SMS in Hindi to your friends & Wish them. Enjoy our Best Anniversary SMS Collection in Hindi & Share Anniversary Wishes Images in Hindi Font with your Facebook & Whatsapp Friends. Send Marriage Anniversary Wishes in Hindi & Say Happy Anniversary to your dear one. Anniversary SMS also known as Shadi Ki Saalgirah Ki Shubhkamna, Saalgirah Ki badhai, Anniversary Shayari in Hindi, Anniversary Quotes or Anniversary Status in Hindi.


अगर आप हिंदी एनिवर्सरी SMS ढूंढ रहे हो तो आपको इस Website पर ढेर सारे Anniversary स्टेटस पढ़ने, Share करने और डाउनलोड करने के लिए मिलेंगे. २०११ साल से हम आपके लिए Hindimarathisms.com इस वेबसाइट पर हर रोज नए हिंदी एनिवर्सरी सन्देश, एनिवर्सरी शायरी एकट्ठा कर रहे है, हमें आशा है की आप हमारी Website को बार बार भेंट देंगे |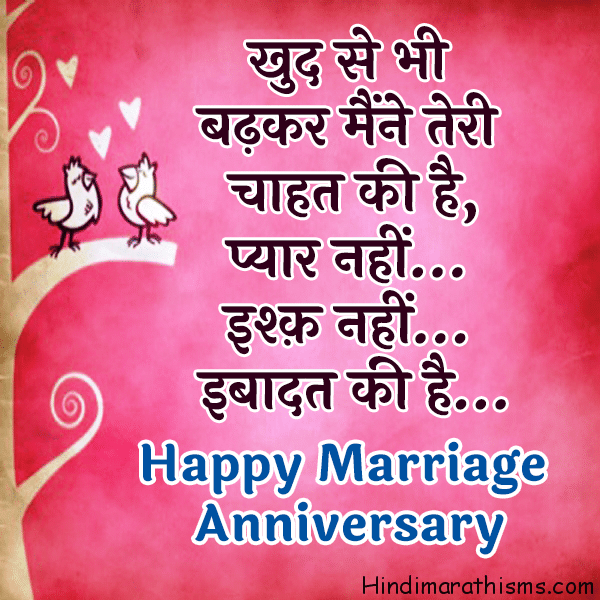 खुद से भी बढ़कर मैंने तेरी चाहत की है,
प्यार नहीं… इश्क़ नहीं… इबादत की है…
Happy Marriage Anniversary!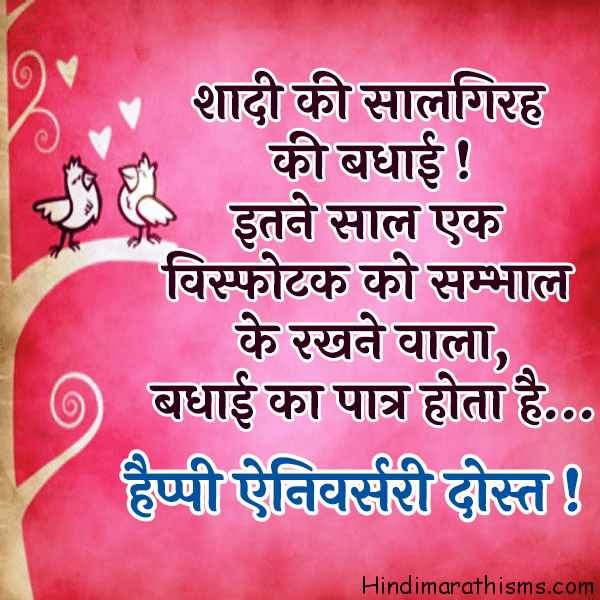 शादी की सालगिरह की बधाई!
इतने साल एक विस्फोटक को सम्भाल के रखने वाला,
बधाई का पात्र होता है…
हैप्पी ऐनिवर्सरी दोस्त!
शादी की सालगिरह की ढेरों बधाई,
प्रेम और विश्वास की है ये कमाई..
भगवान करे आप दोनों सदा खुश रहे,
आदर, सम्मान और प्रेम प्रतिष्टा जीवन में बहे…
हैप्पी ऐनिवर्सरी!